April 1st, 2018 (Jackson, WY)
The town is in full-on party mode and the locals mob the hill wearing the wildest costumes they can put together.
I am dancing in oversized winter boots, stomping in a muddy puddle in the main courtyard of Teton Village. A rigid brace cradles my right knee to protect an injury sustained in a February avalanche which effectively cut short my career as a mountain guide. A trench coat length camo robe, open at the front, whips around me like a cape.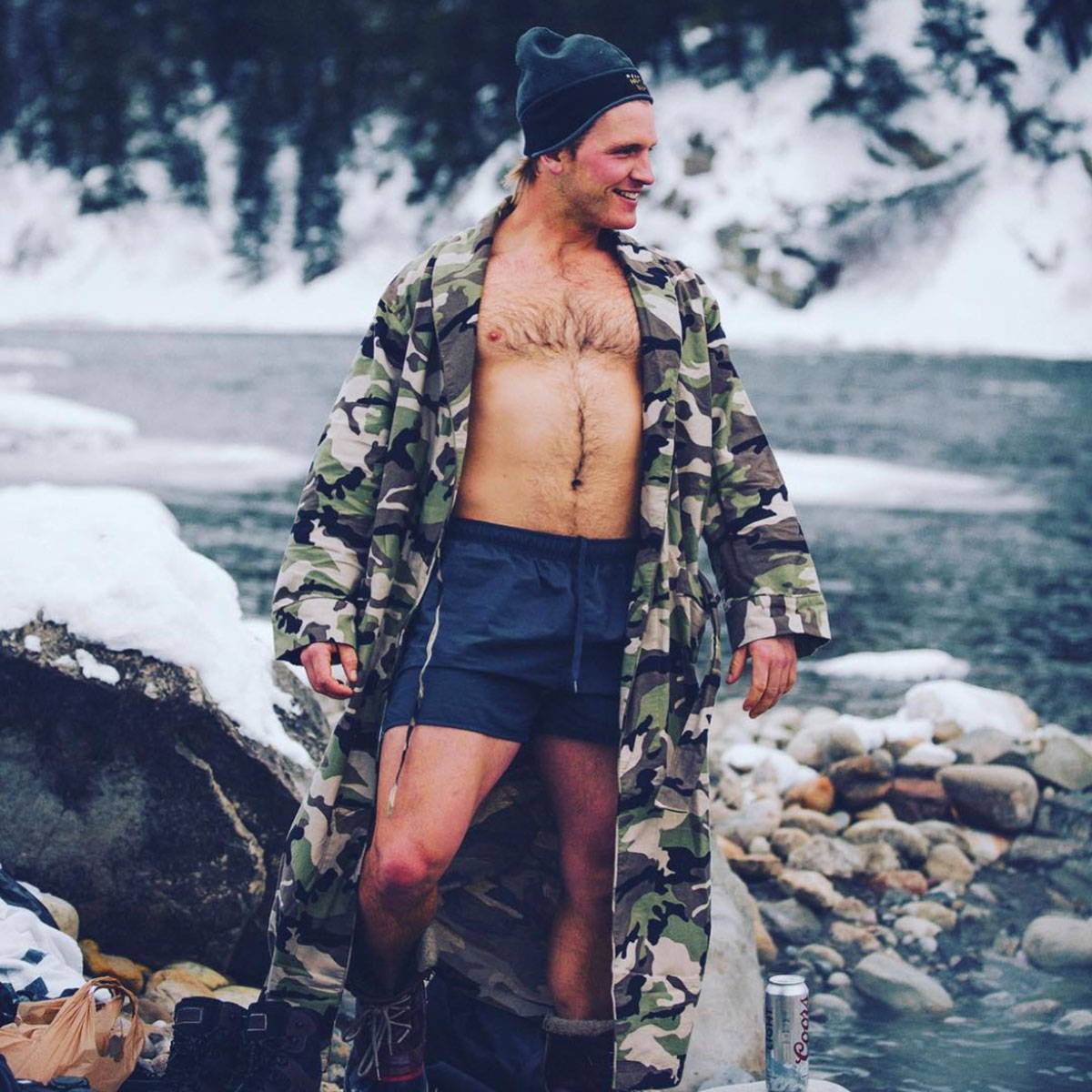 I have always been a robes guy. Growing up, my parents had to inspect my suitcase before checking out of hotels as I was prone to "accidentally" pack the hotels' bathrobes deep in my duffel. I have been known to don a robe and walk around social gatherings at which I am a guest carrying a tumbler of cheap whiskey in one hand and a cigar in the other (almost never lit) proclaiming to relative strangers "please, try the deviled eggs" or "have a wonderful evening" or "enjoy yourselves tonight." Like a well-trimmed mustache, a robe can be stylish, practical, and immediately suggest that you don't take yourself too seriously.
When I moved to Jackson after college, I discovered the thermal hot springs along the Snake River.
Some of Jackson's hotels accept (if not encourage) hot tub poaching by the locals. A robe is the perfect garment for said hot tubs or hot springs and so I set about searching for one online. There were many options but finding one that worked for my needs was nearly impossible. On the one hand, there were some overpriced, completely impractical silk or terry cloth designs and on the other, cheap, poorly-made cotton versions. Naturally I went cheap.
The robe served its purpose in that it covered me up on the icy cold jaunts between the car and the water and allowed me to walk around town bare-chested yet technically "clothed" but as far as style and performance it came up short: it took forever to dry, it soaked up the sulphurous fumes of the hot springs, and the length on my mountain troll frame meant that the hems were constantly dragging through the mud and slush. What's more, it was a single season garment- the heavy cotton would have been unbearable on a beach day. Without any better options I soldiered on with my soggy, noisome, cotton robe.
Back to April 1, 2018. Once I splash enough mud to sufficiently annoy most of the partygoers around me I retreat into the Mangy Moose bar to refill on beer. A local jam band is playing on the stage and costumed party goers are swaying and twirling in that bohemian trance seen in mountain towns and folk festivals. Someone bumps my elbow spilling half of my drink onto an already soaked robe and I turn to see who it is.
It's Ben, a friend and former roommate. Dressed in a kimono and wide brim straw hat, he clinks cans with me and compliments my robe.
He tells me about his upcoming trip to Hawaii. He wants to bring a robe but all he can find that would be light enough for the beach was an overpriced delicate kimono, hence his current attire. Over the cacophony of a Grateful Dead cover in a bar with poor acoustics he tells me of an idea- practical stylish robes made with fun, colorful prints- "Plover like the birds on the beach but also 'cuz you pull it over." A like-minded man of leisure. We make plans to discuss further.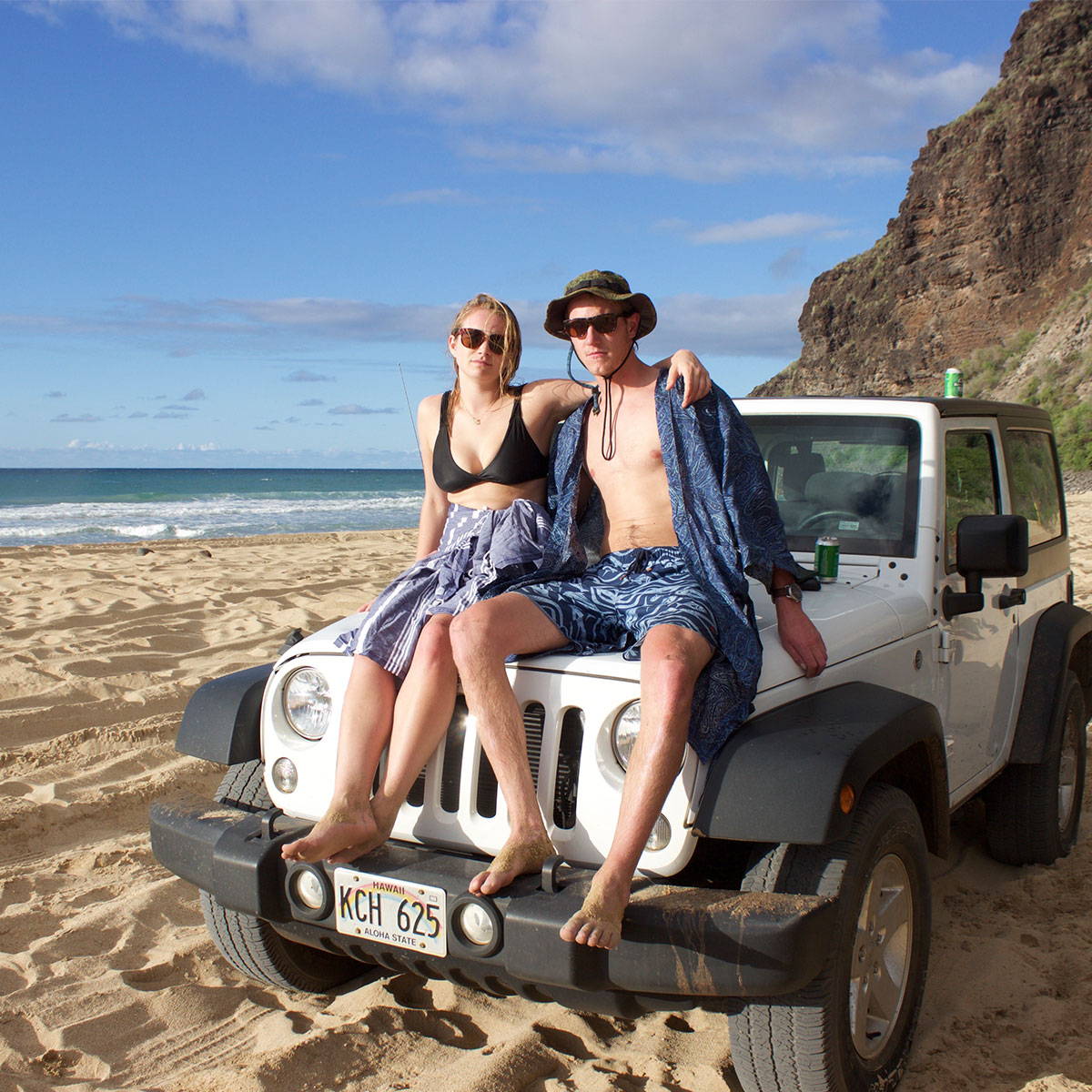 Fast forward a few months. I am recumbent on the couch at my parents home in coastal New Hampshire, right leg swaddled and throbbing from surgery to correct the injuries sustained in the avalanche. My camo robe wraps around me, the faint smell of rotten eggs a fetid reminder of the hot springs and the many shortcomings of this cheap garment. In a haze of pain medication, the memory of my conversation with Ben shines through refulgent and suddenly I am lucid.
I contact a friend in the textiles business for advice on how to turn an idea into a garment you can hold and wear. We set up a meeting at the headquarters of his fabric company employer - Coolcore in Portsmouth, NH. I learn about the necessary steps to honing and tweaking a garment design and building a tech pack. My neighbor Aunt Lynn, who is not actually my aunt but as close as any family member, uses her 50 year old sewing machine and together we create the first prototype out of table cloth-like material.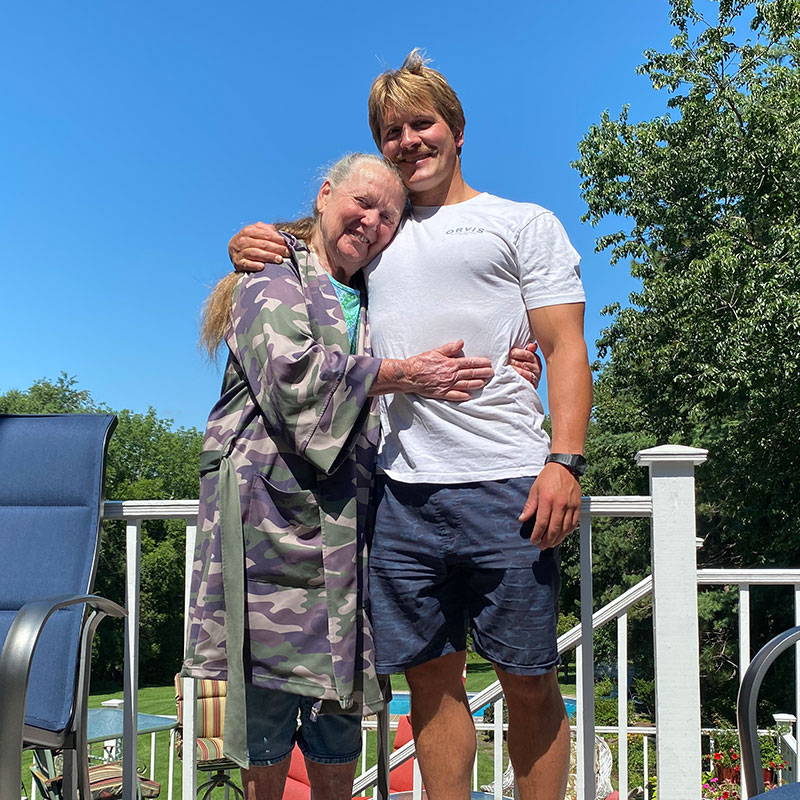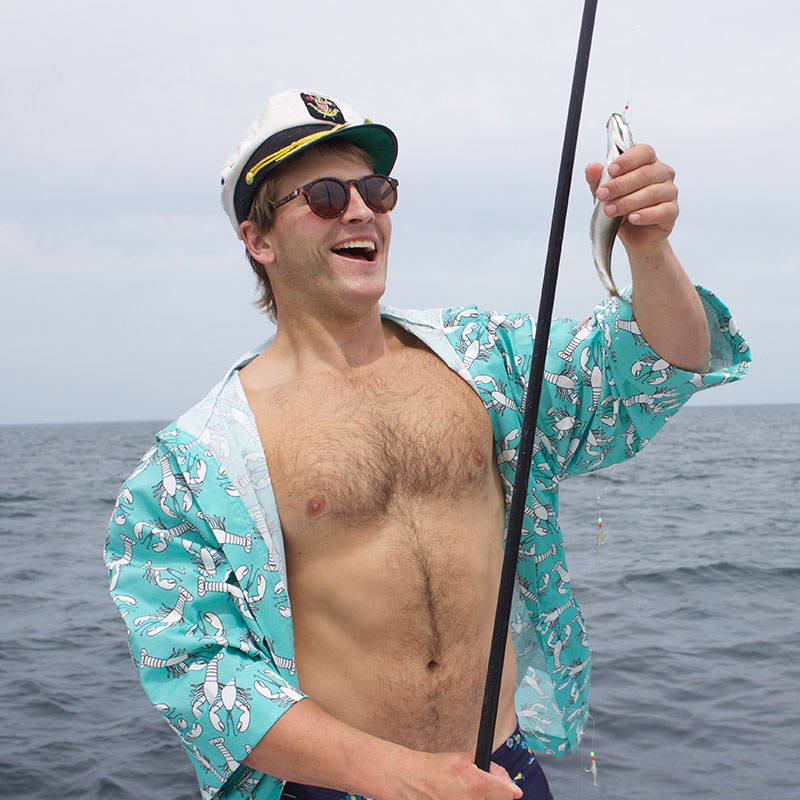 On a later visit to Coolcore I realize that their patented temperature-regulating, moisture wicking fabric would lend itself perfectly to a garment that needs to dry quickly, insulate, and still be light enough to wear in the summer heat. A friend at Coolcore introduces me to Troy (see "old guy who makes the gears turn") who proves to be invaluable for his industry knowledge and contacts in the garment production world.
Through the help of Aunt Lynn, Troy, and many others, Ben and I are able to hone in on a design that meets our criteria for style and functionality – a product that both of us would have bought had we come across it in our initial searches for hot spring and beach attire. We test the product over the course of two years in every environment imaginable from the rocky coast of New England to the biting cold of a Rocky Mountain winter to the scorching dry heat of a Baja afternoon.
Ben and I sought to create something fun and practical. We are pleased to finally bring you Plover Robes. Thank you for joining us on our journey to create the first ever all-season, all-condition, thermoregulating, sweat-wicking, party-inducing, one-hundred-watts-of-pure-adrenaline-pumping, kiss-your-best-friend-on-the-mouth-cause-you're-so-dang-excited, ROBES! Once you put on a Plover Robe you will understand why we're so excited about #GoingRobe